Rabbis from the Kashruth Council of Canada, better known as "COR" for their kosher symbol, made their mark on the nation's capital with a Pre Pesach lecture for the Ottawa Jewish community as well as a special training session for the mashgichim of the Ottawa Va'ad Hakashrut (OVH).
The event was held at Ottawa's Soloway Jewish Community Centre, and was done in cooperation with the OVH. "It's important for a small Jewish community like ours to know that good people such as those at the COR care about all of the Yidden in Canada and beyond," said Rabbi Levy Teitlebaum, OVH's Kashruth Administrator.
The evening began with a produce inspection training session by Rabbi Tsvi Heber, COR's Director of Community Kosher who is responsible for the COR's local establishments such as restaurants and caterers. Rabbi Heber came prepared with light boxes, produce, buckets of water and kosher screens – micro-screens used as aids in insect inspection. "Our mashgichim thoroughly enjoyed Rabbi Heber's workshop," commented Rabbi Teitlebaum. "I know that they all took away valuable skills that will assist them in their daily work."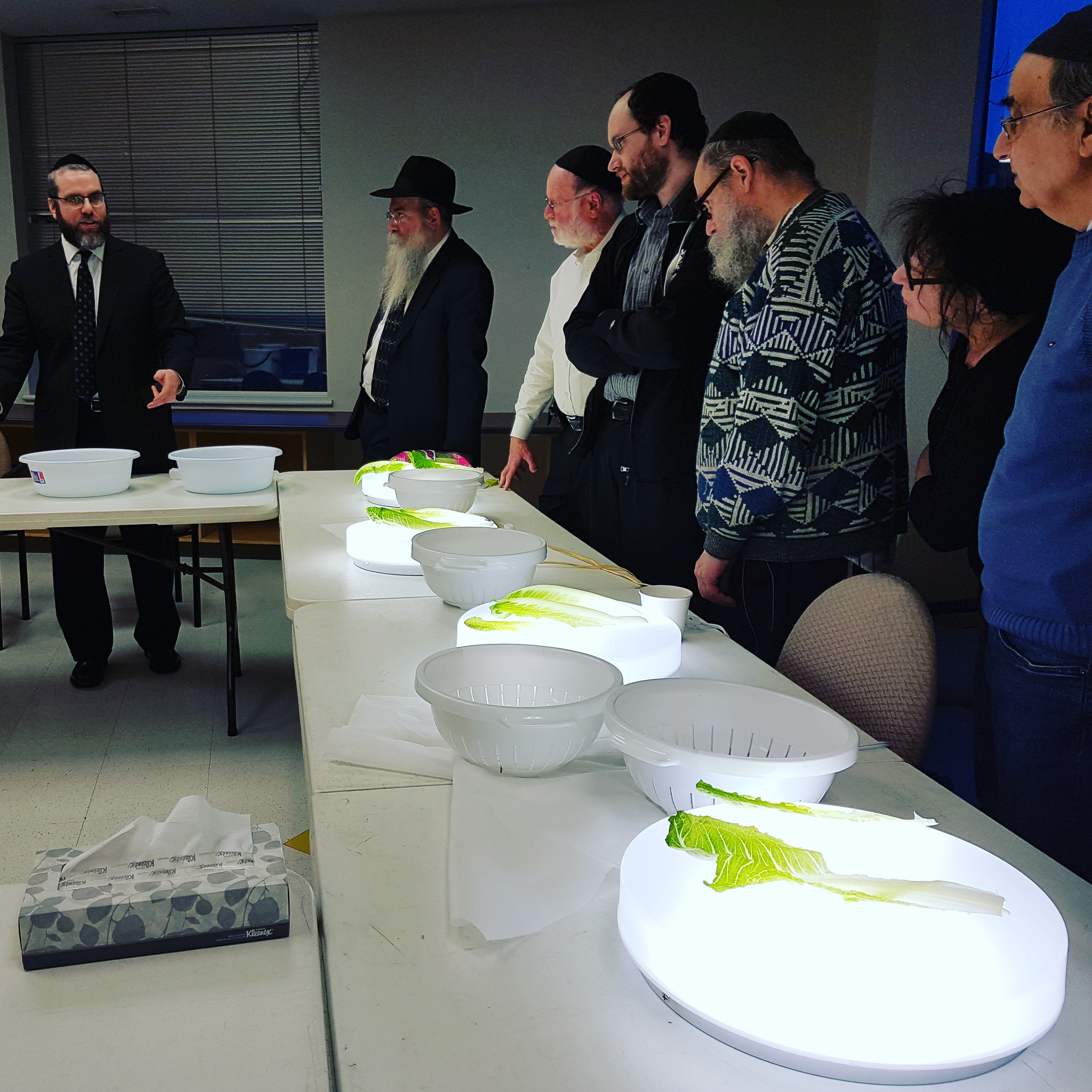 Rabbi Tsvi Heber giving a seminar to Ottawa mashgichim
The wider community event was attended by over 100 people and had the strong support of the Jewish Federation of Ottawa as well as local rabbis and synagogues. Rabbi Sholom H. Adler, COR's Kashrus Administrator opened the presentation discussing the power of asking kashrus questions and why it is so important on Pesach of all times, a holiday dedicated to asking questions. Rabbi Dovid Rosen, a Rabbinic Coordinator and COR's Pesach Specialist prepared a Power Point presentation answering many of the most frequently asked Pesach questions. Finally, Rabbi Tsvi Heber gave a live demonstration teaching how to clean and check marror to ensure that it is insect free.
"Although everyone knows us as 'COR' our name is actually the Kashruth Council of Canada," COR's Managing Director Richard Rabkin said. "That's because we want every resident of every city in Canada to feel that we are here for them when they need us."
Summing up the evening, Rabbi Teitlebaum concluded, "People in Ottawa are going to be talking about this event for years to come."